Alfalfa Hay For Sale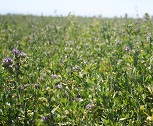 Alfalfa hay has been the primary focus of West-Gro Farms for 25 years. Our flagship forage product has the highest protein and digestibility of all forage products grown locally. This alone creates a high demand on hay for sale throughout the year. Our forage products feed everything from milking cattle to roping horses, and even goats.
Alfalfa hay grows year round in the Imperial Valley, and is harvested six times annually. Cuttings from February to May produce the highest relative feed values. These bales are considered as dairy hay for sale, typically being too hot for equestrian use. From June 1st and on the RFV (relative feed value) slowly drops from heat stress on the crop. During these middle summer months West-Gro Farms produces premium green horse hay for sale. Winter cut alfalfa cures much slower than a summer cut and thus loses most of the green quality of summer horse hay.
Alfalfa is great for the land on which it's grown, producing its own nitrogen. Coupled with the progressive nature of West-Gro farming methods, we can now maintain a crop up to five or six years. All alfalfa hay for sale at our Imperial Valley ranches are cut, raked and baled in-house. We have found this lends to a greater consistency in the quality of product and allows us to produce a hay specific to our buyers needs.