Bermuda Grass Hay For Sale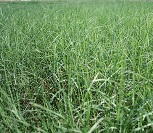 West-Gro Farms is also a large producer of Bermuda grass hay in the Imperial Valley. On our ranches two types of Bermuda hay is produced, Coastal Common and Coastal Giant. Coastal Bermuda has become a staple feed for those immersing themselves in any one of the numerous horse sports. The RFV (relative feed value) of Common Bermuda hay grown in Imperial County maintains around 100 which works great as a mild feed that is easy on horses day-in and day-out. The RFV of Giant Bermuda grass hay is relatively the same as Common Bermuda; the only main difference is height. Giant Bermuda is six to eight inches taller than Common Bermuda, thus producing a cleaner flake when the bale is pulled apart.
Common and Giant Bermuda is cut as often as four times a year in Imperial County. Typically starting around May 1st and finishing in November. Bermuda hay for sale in the Imperial County always maintains a RFV of around 100, whether it was cut in May or November, you will receive the same feed quality. One great quality of growing Bermuda grass forage is that we can expect these relative feed values from just about any kind of local soil structure.
Bermuda is a long-term crop grown for up to seven to ten years in the Imperial Valley soils. It is typically rotated out for approximately three years and then put into place for another seven to ten years. All Coastal Bermuda and Giant Bermuda hay at our Imperial Valley ranches are cut, raked and baled in-house. We have found this lends to a greater consistency in the quality of product and allows us to produce a hay specific to our buyers needs.