Sudan Grass Hay For Sale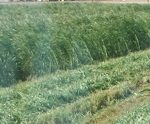 This summer annual does exceptionally well in the Imperial Valley. Most of Imperial Valley grown Sudan is for the export market with Japan consuming the bulk. The grass produces a fine-stemmed, soft-textured bale and can be grown to produce high tonnage per acre. The high leaf-to-stem ratio is one main reason the Japanese have fed their beef and dairy industries with Sudan in increasing numbers over the last twenty years.
Sudan hay for sale from the Imperial County area maintains a steady average of RFV's (Relative Feed Value) in the high eighties for all cuttings in a particular season. Typically the first cutting of Sudan hay produces a fine-stemmed product with a high-visual appeal and the highest of prices per the season. As our season progress and we continue cutting the crop, prices can fall as the visual appeal of the hay drops. Sudan that has been grown and cut more than once can become coarse in the following harvests, though the RFV remains the same.
Sudan is a favorite rotational crop of the Imperial Valley farmer because it grows exceptionally well in our summer months and has the tendency to neutralize our soils for the benefit of future crops. All Sudan grass at our Imperial Valley ranches are cut, raked and baled in-house. We have found this lends to a greater consistency in the quality of product and allows us to produce a hay specific to our buyers needs.